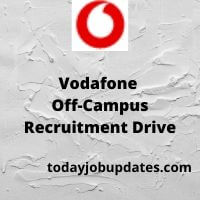 Vodafone

multinational telecommunications company.

It predominantly operates services in the regions of Asia, Africa, Europe, and Oceania. Now Vodafone is hiring for the position operation Engineer for B.E, B.Tech, MCA freshers.

If eligible for this job, please apply as soon as possible. If Not please

today job Updates

updated more off-campus and walking dives updates.

For more details about the

IT Job updates

,

Government job updates

you can find more updates about jobs through these posts.
Vodafone Off-Campus Recruitment Drive
Vodafone Off-Campus Recruitment Drive Dates and Details:
About the company:
Our purpose at Vodafone is to connect for a better future. As a Global Communications Technology company, we put the customer at the heart of everything we do. We are forever challenging, pushing boundaries, and discovering innovative ways to connect our customers with their digital societies.
We connect people, businesses, and communities across the globe to create the future. We earn customer loyalty, experiment, learn fast, and get it done, together.
Join our journey as we connect for a better future.
Description:
The Network Operations Specialist focuses upon the provision of network operations advice and administration and provides monitoring, operation, and management of efficient and effective network services fulfilling the Vodafone Strategy. The Network Operations Specialist has a good understanding of established concepts and procedures in monitoring network nodes, executing event/incident management, configuration, escalation, release and deployment, and 3rd party management activities, ensuring a high quality, reliable network service is available to our customers. Typically reports to the Network Operations Manager.
Job Responsibilities:
* Advises and executes administrative activities of network operations including project initiations, system requirements, incident management, and cost base management operational excellence, solving problems through development of methods ;
* Supports the team to deliver activities related to preventive maintenance, PW, acceptance tests ;
* Conducts activities according to the highest level of operations standards in line with KPIs, (eg making sure planned outages don't exceed the given time limit):;
* Effectively interacts with colleagues to ensure the availability, performance, and scalability of the network systems and to support the achievement of the Network Operations strategy;
* Performs assigned tasks in line with process, updating internal partners accordingly and ensures customer SLA delivery, service availability, quality and continuity assurance;
* Delivers tasks related to Customer Service assurance with a focus on high availability, minimum restoration times and customer management;
* Provides support to maintain solid relations with vendors and partners;
* Uses administrative experience to plan, schedule, implement and test new services, new features and network expansions;
* Supports and contributes to the consolidation of the Service Assurance function for IT and Networks, (incidents, problems and change management) for both fixed and mobile;
* Understands the needs and contributes to ensuring actions and escalations are routed/highlighted as necessary, (both internally and/or externally), to achieve service restoration, in case of faults;
* Performs other job-related duties or tasks defined by the supervisor or resulting from assigned agendas;


Skills:
Monitor and Diagnose

Network Access Technology

Mobile and Network Security

Dev Ops

Cloud

Service and Delivery Management

Automation and Robotics.
How to Apply for Vodafone off-campus Drive:
Click to the Application Link Given here then click on Apply now button.

Get registered if you are new if you already registered then go to login.

Then fill the required data fill the form

After Completing all fields then do submit.
Join Our Social Groups for more Jobs Updates.
If You Have Any Queries / Suggestions / Doubts / Complaints Feel Free To Comment On Below. We retrieve back with an answer ASAP. tjobupdates@gmail.com